A Bullet in Baghdad, a Son's Need, a Mother's Love
There are mothers who will spend today missing sons and daughters fighting overseas. There are women who have lost children in those wars, for whom Mother's Day will never be the same.
And then there is Eva Briseno.
Joseph Briseno Jr., Eva's 27-year-old son, is one of the most severely wounded soldiers ever to survive. A bullet to the back of his head in a Baghdad marketplace in 2003 left him paralyzed, brain-damaged and blind, but awake and aware of his condition.
Eva takes care of "Jay" in her suburban Virginia home where the family room has been transformed into an intensive care unit, with the breathing machine and tubes he needs to stay alive.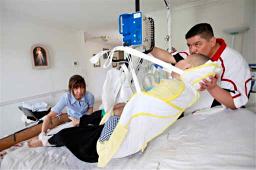 In this April 8, 2010 photo, Joseph Briseno, right, kisses his son Joseph Briseno Jr., 27, as he and his wife Eva Briseno transfer their son to his wheelchair at their home in Manassas, Va. (Jacquelyn Martin / AP)

Try to imagine this life.

Each day starts with two hours of bowel care, an ordeal as awful as it sounds. She labors over his body, brushing his teeth, suctioning fluid from his lungs, exercising his limp arms and legs, and turning him every other hour to prevent bedsores.

She sleeps a few hours at a time, when the schedule says it is her turn, often slumped in exhaustion by his side.

She has been out to dinner with her husband, Joseph Sr., once in seven years.

She could have a better life if she put Jay in a nursing home. Or if she went back to using the home health care nurses the government provided. But one looked indifferently without wiping Jay's mouth when he drooled. Others fell asleep on the night shift, inattentive while Jay suffered seizures.

It's hard for a mother to watch such lapses. The nurses don't love Jay. His parents do. So they have chosen to care for him on their own, and you will not find them feeling sorry for themselves — only for him.

A lesser man would leave, Eva says of her spouse, whom she has known since grade school in their homeland, the Philippines. A lesser woman would cringe at the wound care and bodily indignities that Eva has learned to manage for her son, Joseph says.

"I can't walk away from this. She can't. I'm very proud of my wife," he said.

What keeps Eva going is hope that stem cells or some future treatment advance will help her son.

"I do believe in miracles," she says.

Yet desperation clouds her prayers. "Most of the time I ask God if I can take Jay's place," she confesses, unable to suppress a sob.

Hearing his mother, Jay cries too, the tears silently slipping from his blind eyes.

For Eva, the tears began the day Jay shipped out, on his 20th birthday in 2003. He was a student at George Mason University, hoping to become a forensic scientist. He had joined the Army Reserves and was surprised to be called up so soon. Eva took a cake to his unit before he left.

At first, she wasn't very worried: Jay was assigned to civilian work, building community relations. A few months later, the call came. One of those civilians had shot Jay in the back of the head at point-blank range. His spinal cord was shattered, and cardiac arrests led to brain damage that left him unable to see or to speak more than an occasional word.

His family became a mass casualty of the wound.

His parents quit their jobs and drained their savings to take care of him after he came home from hospitals and rehabilitation centers. His younger sisters, Malerie and Sherilyn, help when they can, and Joseph does a big share. But much of the care falls to Eva, a small, doe-eyed woman who weighs 100 pounds to Jay's 147.

At first, she took care of Jay in the basement, using a hoist that some charities provided to lift him into a wheelchair and the shower. But descending those stairs became a descent into hell. After a while, Eva could no longer bear caring for him in that cavelike setting.

So they moved Jay upstairs, surrounding him with white walls, bright flowers and Washington Redskins gear so he will have cheerful things to look at in case he has glimmers of vision the doctors can't detect.

Eva fills his days by reading him news stories, telling him how good he looks and how nicely he is dressed, and playing the "young people music" he likes on the radio. He grins when the Redskins win, or when Linkin Park, Eminem, Jay-Z or Beyonce are on. Others get a grimace.

"He doesn't like Mariah Carey or Kelly Clarkson," Eva laughs.

She reminisces about Jay as a teen who loved track and field, played pranks on his sisters, tested her nerves when he was learning to drive, and hosted parties with friends in that basement she now avoids.

Jay's care requires a schedule with such military precision that trips to the grocery store or to church must be planned two days in advance.

It starts at 6 a.m., when Eva gives Jay medicines, logs his blood pressure and temperature, and begins his bowel care. That involves properly positioning him, giving suppositories and bathing him afterward. If it's not done right, he can suffer obstruction or impaction, and they've been down that road before.

Next comes grooming, and cleaning the breathing tube that attaches to his respirator. By noon, Jay is dressed and into a wheelchair, a lunchtime sludge of nutrients draining into his feeding tube while he listens to the TV. Afternoons bring physical therapy and twice-weekly prayer sessions with a deacon who comes to their home.

At night, they give Jay breathing treatments, empty his urine bag and weigh its contents, because a change in volume can be a sign of trouble.

When taking care of such basic needs in babies, "you see them grow" and have the joy of watching them progress, Eva said. "Now, every day is the same," and the only changes are bad ones, she said, starting to cry again.

A year ago, Jay had a setback and lost the ability to swallow. Two months ago, he suffered a nicked kidney and internal bleeding after an operation for kidney stones.

When the doctors showed Eva his big wound and how to care for it, "I thought at first, 'I cannot do it,'" she said. But again, she rose to the occasion.

The degree of care the Brisenos provide is unusual, said Dr. Mitchell Wallin, one of Jay's doctors and a neurologist at Georgetown University and the Veterans Affairs Medical Center in Washington, D.C.

"Most patients in this kind of condition would not be able to live at home," Wallin said. The Brisenos "are doing an incredible job," he said. "They don't take enough breaks. They're almost too dedicated."

Jay's father has a plan: forming his own home health care agency to supply nurses for Jay and other wounded veterans.

"The only way we can move on with our lives is to hire and interview, from the start, these nurses," he said. "One of them straight up told us, 'I'm in it for the money.' We just looked at each other and said, 'You're in the wrong house. You're not coming back here.'"

The Brisenos are proud of their son's service despite the price they all pay for it now.

"This is the effects of war, its effects on families. War is ugly and the American people need to know this," said Jay's father, who spent 17 years in the Army himself.

Eva admits regret but also feels gratitude.

"Probably other mothers regret having their sons or daughters go to war, especially when they come home hurt. It's not easy seeing your child be in this position," she said. "We are so proud of Jay and we thank God every single day that we have him."

By MARILYNN MARCHIONE (AP)

[source]
---
Oklahoma cancer patient trades her life so her baby could survive
| | |
| --- | --- |
| | Dottie Mae Crimm drinks from a bottle held by her aunt Jennifer Phillips in The Children's Hospital at OU Medical Center. JOHN CLANTON |
Stacie Crimm called her brother with astonishing news. "You're not going to believe this," she said.
She laughed and cried all at once that day in March as she explained that five pregnancy tests showed she would be having a child. It was a joyous surprise at age 41 but even more so because she'd been told she would never be able to get pregnant, said her brother, Ray Phillips.
But even as she shopped for clothes for the child she longed to hold in her arms, she knew something was not right.
She sent 159 text messages about her pregnancy to her brother in the months that followed. Many were joyful but then the bone-chilling messages came in during the predawn hours. She said severe headaches and double vision tortured her while tremors wracked her entire body.
"I'm worried about this baby," she texted.
"I hope I live long enough to have this baby," said another message. "Bubba, if anything happens to me, you take this child."
Initially, she and her brother used the Internet to try to diagnose her illness. The single mother-to-be had been exposed to mold while she was remodeling her home and her symptoms seemed to match up to mold exposure.
At her family's encouragement, she visited a number of doctors. In July, a CT scan revealed that she had head and neck cancer.
Now she had to choose between her life and her baby's life. Phillips said she agonized only for a while before deciding against taking potentially lifesaving chemotherapy in hopes that she would soon hold a healthy baby in her arms.
The turning point
Crimm collapsed at her home in Ryan and was rushed to OU Medical Center in Oklahoma City on Aug. 16. Doctors said that the invasive tumor had begun wrapping around the brain stem, slowing squeezing the life out of Crimm.
But on a beautiful sunny morning two days later, Crimm felt good enough to sit on the edge of her hospital bed to visit with her brother. He returned to his medical equipment business in Edmond with a lighter heart.
At noon, the baby's heart rate plummeted. Then Crimm's heart stopped 90 minutes later. With "code blue" issued, doctors and nurses rushed to resuscitate her and decided it was best to take the 2-pound, 1-ounce baby, Dottie Mae, by C-section.
Phillips raced back to the hospital, where the baby was in neonatal intensive care and the mother was in intensive care in a separate building.
"Sister was dying right there. She was gasping," he said. "The human body fights death."
A mother's will
Crimm's will was so strong she got off the ventilator and was no longer under sedation after several days.
"There was still a lot of hope at that point," said Jennifer Phillips, Ray Phillips' wife.
Doctors told the family that a treatment plan developed for Crimm could offer a small chance of surviving the aggressive cancer.
"The cancer was such that it had crossed one of her eyes and it had destroyed the muscle behind her eye. It paralyzed her throat. When she did talk, she was hard to understand. As far as her mind, she was there," Ray Phillips said.
But Crimm's improvement was short-lived. She often fell unconscious and hadn't been able to sign Dottie's birth certificate. She hadn't named the father so Phillips gained guardianship because she frequently told him that if she didn't survive, she wanted him and his wife to raise the baby with the four children they already had at home.
"I think she's a miracle. I just want to do right by her and do what Stacie asked," Jennifer Phillips said.
A nurse's determination
On Sept. 8, Crimm stopped breathing and once again was resuscitated. Hospital doctors and nurses warned the family that she likely was dying.
"Her heart had stopped. She quit breathing. She was technically dead, and then they brought her back," said Ray Phillips.
But she had not yet held the baby whose life she had chosen above her own.
She'd never touched the golden fluff of fuzz framing her baby Dottie's angelic face. Never counted those fingers as tiny and perfect as a doll's. Never looked into those dark blue eyes.
But a quiet yet determined nurse and mother, Agi Beo, couldn't bear to think of Crimm's emotional pain.
"She was in the last stage with the brain tumor. And she never got to see the baby," Beo said.
"This baby was everything she had in this world."
With Crimm's death imminent, Beo worked with nurse Jetsy Jacob to step up their questioning of the family, healthcare professionals and disease experts about Crimm's condition, including her staph infection. They talked to Neoflight, the medical center's neonatal transport team, about using a capsule-like ICU to safely move Dottie.
When his sister regained consciousness later that day, Phillips asked what she thought about possibly seeing Dottie. Crimm's eyes popped open and she raised her hands as if to ask where was her child.
Nurses wheeled Dottie down the hallway to her mother moments later. Phillips said doctors, nurses and others clad in protective gear gathered as nurses carefully lifted the baby from the incubator under her mother's watchful eye.
They placed the baby on her mother's chest. Mother and child gazed into each other's eyes for several minutes. She smiled at the baby who at last lay in her arms.
No one said a word. No one had a dry eye.
Stacie Crimm died three days later.
Last week, Ray Phillips fulfilled his last promise to his sister. Healthy, 5-pound Dottie went home to live with Ray and Jennifer Phillips and her four new siblings.
BY SONYA COLBERG
October 16, 2011
[source]